This guide is made in a goal to help users of TikTok social network who lost access to their account due either by hacking/getting it stolen or by forgetting their password.
Yes, lost accounts can easily be recovered using "password reset" feature located at login page of almost every website nowadays. But the problem for many users is that they even lose password of their email account used when signing up for an account. Some even can't remember what exact e-mail address they've used for registering an account. Or they no longer use a same phone number they have made their account with.
We are living a rapid lifestyle where everything is available online to everyone. So many interesting things all over in the every corner. With any obligations in real life and rush, not every of us is organized enough to have every detail under control, such as our passwords and accounts details. Many people assume if they have an application installed in their phone that their account will stay alive as long as the app is there.
Not all of us are highly tech-skilled to know that online accounts can easily get either blocked, lost, hacked, reported, and in worst case suspended & deactivated.
The truth is, we have to care for our accounts more then an average internet user think. The most important thing is to keep important accounts information saved and secured. Highly recommended written somewhere offline too, available to yourself only. Not only have email verification enabled to recover it, but add an extra option(s): Add your phone number too. So you can recover it using SMS message if needed.
So ow let's get  to the point.
How to hack a TikTok account password? There are few methods which you can use to accomplish this successfully.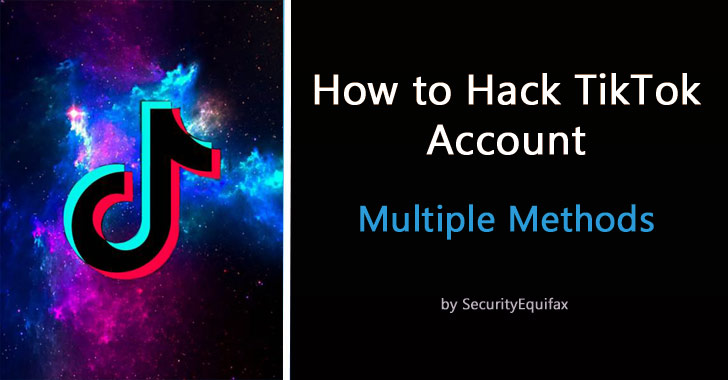 Important:
By reading this tutorial you are accepting and agreeing with our terms & conditions and disclaimer listed at the bottom of the article.
Navigation – List of the Methods:
1. Using HackTok App
2. Password Guessing
3. How to Hack TikTok Account Using Phishing Technique
4. Hack TikTok Account Using Phone Spy App
5. Hire a Professional Hacker to Hack TikTok
Using HackTok App
Developers of HackTok app built this tool to help TikTok users recover their lost accounts. They provided an alternative way to find password when none of official TikTok account recovery method works.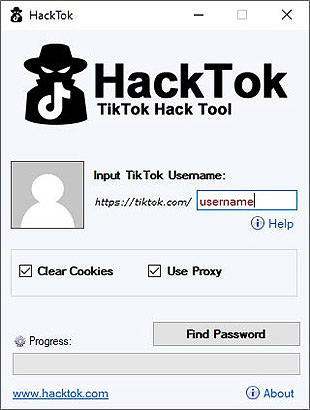 As mentioned earlier, many social media users nowadays who browse these networks using their smartphones don't take it serious to know how important is to save an email address and login password used when signing up for an account.
They think if they have an app installed, their account will stay safe. And after some time, they simply forget their email address used for registering their account, together with password.
HackTok is developed right for these situations. It will crack TikTok password using a brute-force type of hacking attack which bypass usage of account's e-mail address.
The Only info required  is to enter a TikTok username of the account they'd like to hack. The HackTok app will then "attack" a TikTok's login page with given username and thousands of possible passwords combinations per minute until it finds the right one to login successfully.
The process how HackTok's system is functioning in detail is described at their website so check that out there if you want to know more about it.
This application is made for all modern devices nowadays, including smartphones and desktop PCs.
OS supported are: Android, iOS, Windows and macOS.
Download HackTok app: www.hacktok.com
Password Guessing
Seems dummy to be true, but this actually sometimes works. The truth is, and studies also shown that average internet users using very simple passwords for their accounts. They are often related something from user's personal life, like name of their hobby, pet, relationship partner, or some else phrase which they seem it's funny or it's part from their social life.
According to SplashData Inc. software research company at beginning of this year, a common passwords internet users made for their online accounts were one of these ones:
– "1234567, password, password123, admin, football, 12345, 123456789, iloveyou, monkey, whatever" & many other simple similar ones.
As you can see, pretty simple and short ones.
And if you want to hack TikTok account of someone who you closely know, then you must know their interests, hobbies and other things they like. You can simply go to a TikTok's login page with their username and play with password combinations until (if you are lucky) find the right one they use.
How to Hack TikTok Account Using Phishing Technique
Phishing is one of the most popular hacking methods of all times. It's an old technique, but easily adapting to changes of new technology updates.
So what phishing is exactly?
This method is performed by usage of a cloned website's login page of the one which hacker plans to hack.
That means to make this method work, you're required to know some of HTML, CSS and a bit of PHP web/programming languages. Some graphics editing skills such as with Photoshop will come useful too.
We already explained phishing tutorial in detail in one of our previous tutorial about hacking Instagram using physhing method. So to not copy everything again, please read the linked guide.
Another one, which describes creating a phishing page for Facebook will be useful as well. Just change some things in a code to make it work for TikTok.
Hack TikTok Account Using Phone Spy App
There are applications specifically developed to monitor a cellphone remotely, including messages logs, its saved data, calls, social media activities and even GPS location.
These apps usually needs to be previously installed on someone's device in goal to track them successfully.
Parents often use these tools to monitor their children's phones to know if they are safe and to track their location.
However, like always, hackers saw opportunity in these apps to hack their targets.
Like it's possible to hack any messaging app' activity and chat logs with these tools, TikTok is not exception as well.
By using these spy apps, not only you'll be able to hack someone's TikTok account, but their entire smartphone, and any app they have, like WhatsApp, Facebook, Instagram, SMS, Email or anything else installed.
The most popular and highest rated mobile spy app nowadays is the eyeZy app.

Supported for Android & iOS, and running in stealth mode when installed on a phone, your target won't even notice they are being monitored by using it.
Hire a Professional Hacker to Hack TikTok
If methods above are too complicated for you, or you are just too busy to learn & invest your time learning them, there is always a way to let a professional do a job for you.
However, this won't be free of charge since these people work for money. So get ready to pay anywhere from $100 bucks & above for their work.
Where to find a professional hacker to hack a TikTok account?
Our recommendation would be the cybersecurity company linked below, since they have many positive reviews online.


(Type the link manually into your browser)
Disclaimer:
The Link(s) added above are sponsored type, which means that we (SecurityEquifax) can not control a service ordered from them in any way. If you get any issues with their job, it will be between you and them.
Disclaimer of This Tutorial:
This tutorial is created in purpose to help a TikTok user to recover their lost / stolen account back. We do not endorse any illegal activity after reading this article. Hacking TikTok accounts which do not belong to you (You are not original author / creator of same) is a criminal act not tolerated by our terms & conditions policy and by law.