We live in a world that is increasingly becoming more and more dependent on technology. Windows operating system is the most sought after system in the world. This makes it more vulnerable to malicious hackers. Nowadays, all our personal information is stored on our computers. Malicious individuals become more cunning and device ways to get to our personal information. You must take measures to protect your data and your computer. Not taking these measures leaves you extremely vulnerable to malware and hackers.
There are different types of malware, and equally, more tools to protect yourself. Windows 10 comes inbuilt with most of these tools. Protecting your computer requires you to install different security software and other cybersecurity practices.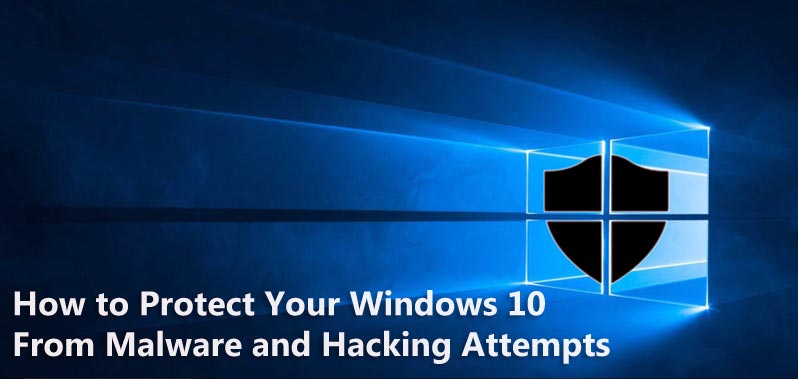 You Might be Interested:
> How to Hack Windows 10/8/7 User Login Password – Tutorial
Here are the 11 best tips to apply in protecting your Windows 10 from viruses and hacking attempts:
1. Windows 10 and Software Update
Microsoft continuously updates its software to strengthen any vulnerabilities. You need to play your part in keeping out malware. Hackers exploit any security weaknesses and hackers use them to get into your data. Updates on Windows 10 are automatic, but you must ensure you update your system by going to "Setting" then to "Update and Security," then click on "Windows Updates."
2. Upgrade to The Latest Windows 10 Version
Make sure your computer is running on the latest version of Windows 10. Since its launch in 2015, Windows 10 had had many updates to enhance productivity, performance, and security. Upgrading to the latest version ensures your gadget is able to access these enhanced security features.
You need to make sure your Windows installation is using the most recent update pack for continual protection. New Windows versions download and install automatically, and are free of charge. There are several ways to manually upgrade, including Update Assistant, Media Creation Tool, and Windows Update. The Media Creation Tool executes a clean installation of the latest version and an in-place upgrade.
To find out which version of Windows 10 you are using, Use Windows Key + R key combination. Type Winver, and then click OK. Your version will appear in a new window.
3. Encrypt Your Data
Data encryption is critical, especially if you store very sensitive information on your device. In the event, you lose your device and the information falls into the wrong hands, your data is safe. You can use a tool like BitLocker to encrypt your data. Installation of a VPN on your Windows 10 protects your online traffic by encrypting any data that streams between your gadget and the internet.
To access BitLocker, go to "Control Panel > System and Security > BitLocker Drive Encryption" and enable BitLocker by clicking on "Turn on BitLocker." BitLocker needs TPM (Trusted Platform Module) in Windows 10. TPM is a special chip that provides security functions on hardware. It is a merger of hardware and software and protects encryption keys or passwords when unencrypted. Once a TPM chip senses the system's integrity breach by malware, it gets into a quarantine mode to help in fixing the issue.
4. Use The Latest Antivirus
Every device running on Windows 10 must have an antivirus. This is to help identify and get rid of malware before it can cause any file damage, reduce performance, or cause system crash. Installing an antivirus is not a one-off affair; You must keep updating it to the latest version. Viruses, ransomware, worms, and various malicious codes keep getting better at bypassing your defenses. You have to keep upgrading as well to keep your data safe.
In some instances, the Windows-Defender might not be sufficient to protect your data. Use an antivirus from a well-known company if you have to use a third-party antivirus. An antivirus must include real-time scanning, automatic update, and a built-in firewall.
5. Use The Latest Anti-Ransomware
Viruses are among the biggest malware threats, but ransomware attacks are fast catching up. Ransomware attackers deny you access to your computer by encrypting your own data. They then proceed to demand for payment, mostly in Bitcoin, before the decrypt the data. There is no guarantee that after payment they will decrypt everything, if at all.
To prevent this, use the "Controlled folders access" that comes with Windows 10 to protect from these attacks. This feature prevents ransomware from accessing and taking hostage of your data. It also blocks any malicious programs from making any unwelcome changes to your data.
Go to Windows Defender Security Center > Virus and threat protection> Virus and threat protection settings. Turn on the Control folder access toggle. Once done, the Windows defender Antivirus will protect your files from unauthorized access by malicious malware.
6. Make use of Firewalls
Windows 10 has a very efficient in the built firewall, designed to protect your device from all types of malware that might try to gain access via the internet. Normally, this is as a default setting. You can enable it by going to "Windows Defender Security Center> Firewall" and network protection. Ensure each network connection's firewall is on.
Alternatively, click on the network connection link and turn on the toggle switch under Window Defender firewall.
7. Download and Install Verified Apps
This point cannot be overstated. You should always avoid downloading and installing apps from unverified sources. Make sure you download apps from their official and verified websites. For Windows 10, the Microsoft Store is verified by Microsoft, which ensures the apps do not contain malicious code.
Windows 10 has a feature that blocks users from installing apps from any unverified source except the Microsoft store. This feature ensures that no harmful program can automatically download and embed itself in your computer without your knowledge or consent.
Another alternative is to use a standard user account, rather than an administrator account. This prevents malicious code from trying to execute by taking advantage of the administrator status. Create a new administrator account, then from this new account, change the original account to standard.
By using this limited standard account, you are limited to using applications, but not installing new ones. This works well in preventing the download of new programs. You can change settings, but can't make changes to other accounts.
8. Create Different Data Backup platforms
The best ways you can keep your data safe is by making sure you have different backup platforms. At the very least, you should have two backups, one on the cloud and the other offline on an external hard drive or local network location such as the Network Storage (NAS) ensures you can recover your data lost via theft, hardware malfunction or malware infection.
When creating a full back up on an external hard drive, ensure you disconnect the drive properly and keep it in a secure location. Ensure also to disconnect from the network location where you do your back up. If you do not disconnect from the local network, malware can still get to your data and infect the back up as well.
Running Windows 10 means you don't need a third party back up. You can use the System Image Backup tool which is inbuilt and duplicates everything on your device including app settings, files, and Windows installation.
File history is another way to locally back up your files offline. Alternatively, you can copy and save your files on a flash drive on a regular basis. This works if you don't have many files. Depending on how often your files change, you can back them once a day or once a week. Business data should be backed up once or twice daily.
Online backup is the best way to protect your data from malware, accidental deletion, natural disasters or theft. One Drive is an online backup available to Windows 10 users. This option, however, is limited to natural disasters, theft or deletion. Malware can still access your files and corrupt them. The best option is to use a third party online backup service.
9. Get Proper Training on Windows 10 Protection
The best way to fight malware is to ensure you are properly informed. The easiest way for malware to infect a device is as a result of clicking on infected links. The malware comes as cleverly designed emails or web site pop-ups. Downloading and installing applications from unverified sources is also another way that malware infects devices.
When you receive emails, be careful to only open emails from sources you recognize and delete suspicious mail. Spam mail is sometimes easy to detect when it contains obvious grammatical and typing errors. Malware is hidden on pop-ups in web sites. Close the pop up if it does not appear legit. Sometimes, these pop-ups are impossible to close and you may have to restart your device.
Cleaning up malware is another way of keeping malware at bay. When your computer is infected by malware, pop-ups tend to redirect your browser to malicious websites. Your computer's performance slows down and suddenly you will see a new toolbar embedded in your browser. To avoid spyware, do not click on any unverified or suspicious links. Do not answer any questions in pop-ups. Do not download free applications or programs. If using Chrome, try cleaning up with Chrome Cleanup Tool which scans and cleans malware from your computer.
Use the normal web browsers such as Google Chrome, Microsoft Edge and Mozilla Firefox. These applications are continuously updating and have very good inbuilt security features. They warn you in case of any potential threat and keep you clear from unsafe web sites. If a warning pops up, leave that site, it definitely is not safe.
10. Promptly deal with Malware infections
If you suspect a malware infection, the first thing you should do is to make sure your computer is disconnected from any network it's connected to. Unplug the Ethernet cable, disable the Wi-Fi adaptor and turning off the router to prevent the infection from spreading to other computers.
Open the Windows Defender Antivirus and run the offline scanner. If for any reason you don't have any control over your computer, use a different computer or device to create a bootable media which performs an offline scan and removes the threat. Most antivirus software has the ability to perform an offline scan.
If these steps do not get rid of the malware, you should do a system restore using the latest backup you have. A system restore allows your computer to go back to a previous date before the infection. This option is disabled on Windows 10 by default. Follow these instructions to do a system restore:
Go to Control Panel
In the systems Properties dialogue box, click on the System protection tab
Choose Windows installation drive in this case, Drive C
Click the "Configure" button
Click on "Turn on system protection"
Choose OK
11. Disable Ad Tracking
It is possible for hackers to track your online trends as they browse the internet. Marketers use this to create your profile based on your web history. They use this to send you advertisements according to the information gathered. You can disable this by Systems Settings > Privacy Settings > General > Change Privacy options. Disable the interest-based advertising.
For a higher level of ad blocking, go to any web browser then click on Microsoft privacy and ads settings page, then disable all ads on Windows, Microsoft and browser level. From this point onwards, no Marketer can send you individually profiled ads.
You Might be Interested:
> 10 Tips to Speed Up Windows 10 and Improve Your PC Performance
Conclusion
You can never be 100% safe without a continuous upgrade of the Operating System. You have to keep working on these tips to make sure you are protected at all times. Once you know what to look out for, you will be a lot safer.
You have to be on the constant lookout for malware. Hackers become bolder and more cunning by the day. They keep devising new ways to get around systems. They target websites with a lot of traffic and if you are not vigilant, you will end up with computer malware or your data held for ransom.
If you intend to keep your data secure, you need to make sure you follow all the above steps. Malware can do a lot of damage to your files and even bring down a business. Vigilance is critical, as is encrypting data.